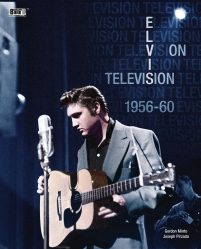 "Boxcar Enterprises" veröffentlicht das limitierte und 400 Seiten starke Buch "Elvis On Television (1956 - 1960) zum 20.06.2016.
Ankündigung:
"From his first national introduction on the Dorsey Brothers 'Stage Show' in January 1956, through his appearances on other TV shows hosted by famous celebrities such as Milton Berle, Steve Allen and Ed Sullivan (including the infamous 'from the waist up' show in January 1957), this book goes well behind the scenes of each show documenting his arrival, the rehearsals and the shows themselves, all the way through to Elvis' post-army appearance on The Frank Sinatra-Timex Show in May 1960. It was to be his last television appearance for eight years.
Supported by a fully comprehensive text, (by Gordon Minto) collected here are scores of historical documents, memorabilia and hundreds of rare photographs - many of which have never before been published. This book will captivate the reader throughout, and is the most detailed document on the history of Elvis on Television from 1956-60."
Quelle: ElvisDayByDay.Com
Diskutiere diesen Artikel in unserem Forum (1 Antworten).